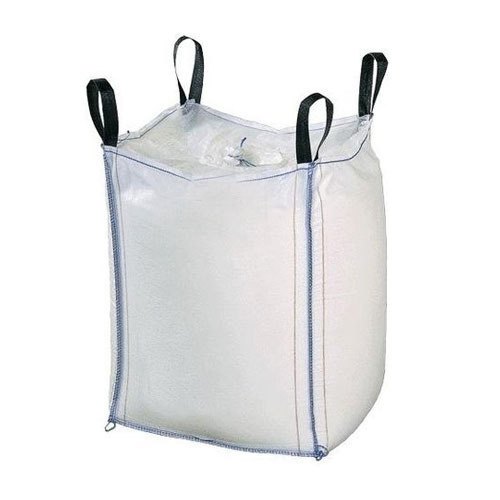 At Woven Bags, we specialize in creating a wide range of bags to cater to the diverse needs of various industries. Our product offerings include U Panel Bags, Tubular Bags, Baffle Q-Bags, Conductive Bags, Tunnel Bags, Ventilated Bags, and Single & Two-loop Bags. These bags are made of PP woven fabric and are specifically designed for efficient storage and transportation of materials in bulk quantities. Which are Known as FIBC Bags. and Mostly used in : 
Pharma Industry
Food Industry
Fertilizer Industry
Construction Industry
Chemical Industry
Petrochemical Industry
We are the leading manufacturers of Jumbo Bags in India, specializing in Flexible Intermediate Bulk Containers (FIBC). Our FIBC bags are designed with flexible fabric to accommodate materials according to their specific requirements. We take pride in offering tailor-made solutions that perfectly fulfill our customers' demands. Whether for transportation or temporary storage, our FIBC bags are ideal for sustainable bulk packaging. With state-of-the-art manufacturing facilities, we ensure that our FIBC bags meet the highest international standards in terms of quality and strength.
ADVANTAGES OF FIBC BULK BAGS
 Safety improvements: The handling of bulk materials contained in bags or drums, as well as the process of discharging these materials into equipment, poses the risk of causing injuries. To minimize manual handling by workers, mechanical equipment is utilized to move these containers efficiently and safely.
Packaging that is economically priced: As the bag capacity increases, the tare weight as a percentage of the material weight decreases. This results in the ability to deliver more products using smaller packaging, leading to cost savings. Properly sized FIBCs allow for efficient stacking and placement in shipping containers and storage spaces, maximizing their capacity. Choosing an experienced bulk bag manufacturer is critical to ensure the suitability of your process or product for bulk bag usage. Most complaints from manufacturers of bulk bags and machinery stem from using incorrect bag sizes or designs.